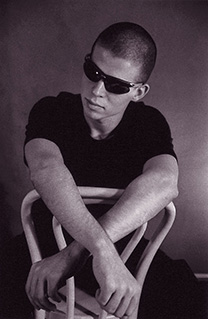 photo
Elżbieta Galas
My name is Peter Galas, I'm from Warsaw, Poland.
Currently my main occupation is studing at
MUT (Military University of Technology - Wojskowa Akademia Techniczna)
in Warsaw, Poland, at Cybernetic Division (Wydział Cybernetyki). After this few hours at university I'm working at one of IT companies (currenlty at
AMG.NET
as e-banking consultant).
Beside all of this computer, IT and such things my passion is photography.
It's hard to say when I started play with it. From childhood I remember that at my house there was always a lot of photos, thanks to my mom. She really like to take pictures, for very long time she was doing it only in analog way (as it was only way do to it) and, I belive, till now it's her favourite technic.
I think that, my own, real start was when I got my first own photo camera, Canon PowerShot G5, at May 2004. Reason why I bought it was clear - fascination in tradiotional photography and, on the other hand, fascination in all aspects of "digital world".
Thanks to all of it I started to get real happines of doing what I like and learning each day a new things.
Every day I was going deeper and deeper and finally at summer 2005 I bought first dSLR - Canon EOS 350D. In meanwhile I had opportunity to shoot with it using Canon "kit" EF-S 18-55mm f/3.5-5.6 II, Canon EF EF 100-300mm f/4.5-5.6 USM and EF 28-105mm f/3.5-4.5 II USM.
After next few months it came time for first Canon L-series lens - 17-40mm f/4.0. Then it was my first "killer" lens - Canon EF 70-200mm f/2.8, second L lens at my photo gear set.
After all I started to get really interesting possibilities to take photos and some results of it you can see here - this are images at this site.
Right now I'm at the time of thinking about new prime lenses and about new body which I belive will be avaiblable to get in near future.
Result being the mixture of all of my passions you can see right here - at this site.
Have fun watching my photograpic portfolio.
Legal note:
The photos and contents on this website are copyrighted by me, Piotr Galas. Please ask for authorisation and permission *before* you make any use of it (for private or business purposes).
Click -- here -- for e-mail.